We interviewed Shimobe Hotel, where guests can enjoy 12 different baths from 2 sources, to ask how they're using VACAN to visualize the level of congestion.
Service Installed: VACAN for Hotels
Area Installed: Public baths (men/women), restaurant
Interview: Shimobe Hotel Mr. Yazaki
The cost and functions were the decisive factor
ーHow did you find out about Vacan?
When the state of emergency was issued, our inn took a break for two months between April and June. During that time we were researching measures we can take to prevent COVID-19 from spreading. It's something we've never experienced before, so we had no idea what we can do.
While researching, I found a case study of a hotel that is preventing public baths and restaurants from getting crowded by sharing the real-time level of congestion in those areas and allowing users to view it from their smartphones. That hotel developed their own system so I searched for companies providing the same service online and found out about VACAN.
ーDid you look at other companies as well?
There were a few different companies providing similar services so we compared the cost and functions and, the cost is what we prioritized on the most.
We knew we had to do something to prevent the spread of COVID-19, but it's difficult for us to spend a few million yen when many things about the future were unclear, like whether the state of emergency will be issued again. With that in mind, VACAN's cost seemed like the most realistic.
There were some other hotels, inns, and others in the same industry as us that was using VACAN and they also had experience in large-scale installations such as malls, restaurants, and restrooms in Tokyo station, so I felt relieved.
ーThe functions provided will depend on the cost, were you satisfied with the functions you were able to use?
We were looking for something that is easy to operate and will allow us to visualize the real-time level of congestion. VACAN does just this.
Of course the functions needed will change depending on the goal or size of the area that needs to be covered, but we have never felt that the functions provided were not enough. Our goal was to visualize the level of congestion and create an environment where guests can avoid crowds, so for users with the same objective, I think what's provided is enough.
So guests can enjoy their stay without limitations 
ーWhat kind of measures did you take before installing VACAN?
In July, before we started using VACAN, we decreased the number of baskets guests can put their clothes in to limit the number of people who can use the hot spring at the same time. We also got rid of shared amenities to decrease the risk of guests coming in contact with each other.
When it got busy, we had one staff stand at the entrance of the hot spring to count how many people were inside. When it was about to get crowded, we asked guests to wait outside.
We also considered setting up schedules so guests can only use certain facilities when it's their turn.
ーWhat kind of problems did you face at that time?
While thinking of ways to prevent crowds, which is something we've never thought about before, we had trouble finding ways to keep guests safe without it becoming inconvenient for them.
It was especially difficult for hot spring. Hot springs are our selling point, so there are many guests who come here for them.
If we have too many limitations, it was obviously going to become inconvenient for the guests. If they feel uncomfortable, there is a risk that they will never come here again.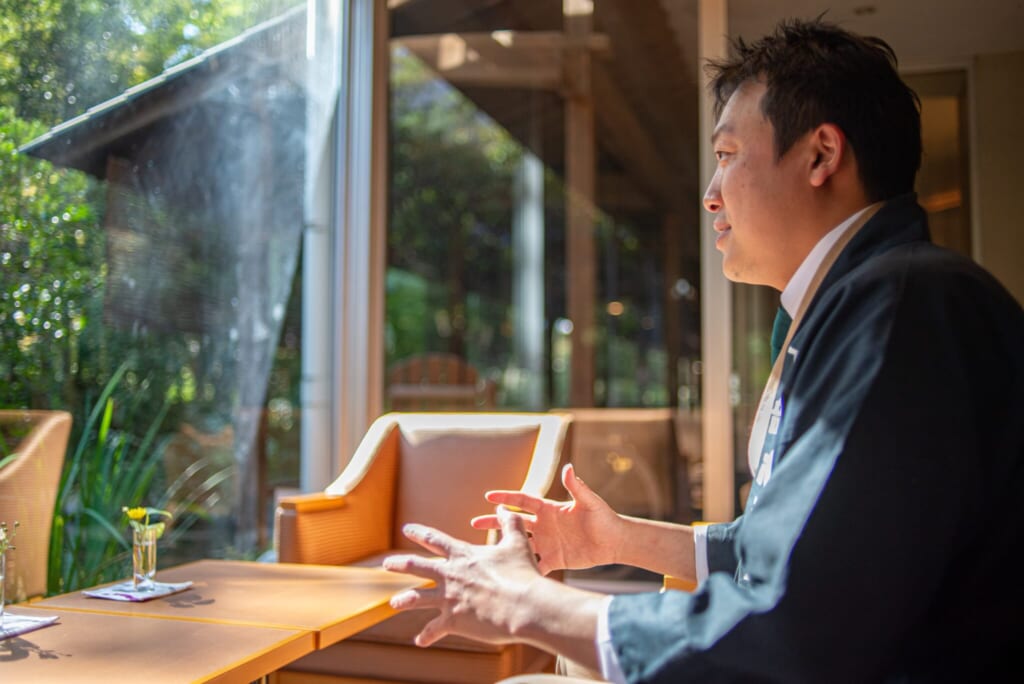 For example, by decreasing the number of baskets, or limiting the number of people who can enter the public bath, we can avoid creating crowds to some extent, but if there were no baskets or if there were too many people. the guests would have to return to their rooms. This is clearly not convenient for them.
Similarly, if we create a time limit guests can stay in the public baths, we can avoid it from getting crowded. However, for guests who like bathing, telling them "For your safety, please leave after 30 minutes" is like half forcing them to leave.
The measures we took before can ensure safety to some extent, but if you think in the guests' perspective, it cannot be considered convenient.
However, if guests can check the level of congestion in real-time, they can choose their next action, and I thought that was a wonderful idea. So I believe being able to avoid crowding without limiting the guests' actions is a win-win situation.
Reduced the burden for guests
ーHow are you using VACAN?
We're using it to visualize the level of congestion of the public baths and restaurant.
Similar to the situation with public baths, if we set a schedule for when the guests can come to the restaurant, we can prevent it from getting crowded. However, we want the guests to spend their time comfortably so we made it so they can check the level of congestion from their rooms.
ーWhat are something you were worried about when you decided to install VACAN?
I was worried about the cost the most.
If we were to install it, it would cost us money to install it but there is also the cost of time to install and learn how to use it. I was curious how much cost or burden there is overall for those who are installing it.
The sensor that detects how crowded the public bath is, was something that can easily be setup outside, and there was no need for a large-scale construction. The operation was also very simple, and there were barely any additional operations for staffs, so we were able to install it without worries.
When we're using a new system, it's important for us to consider to not only install it but to make sure we are able to operate it. After installing VACAN we barely have to do anything additionally so, it was easy for us.
ーDo you notice any changes after installing VACAN?
There are two big changes. One is that our guests are finding it convenient. They often tell us "It's convenient because we can easily check how crowded it is in real-time".
Up until now, if guests wanted to see how crowded the baths were, they had to physically go there or call the front desk. After installing VACAN, guests can easily check from their smartphones, saving them time. I think this is what is increasing the satisfaction rate.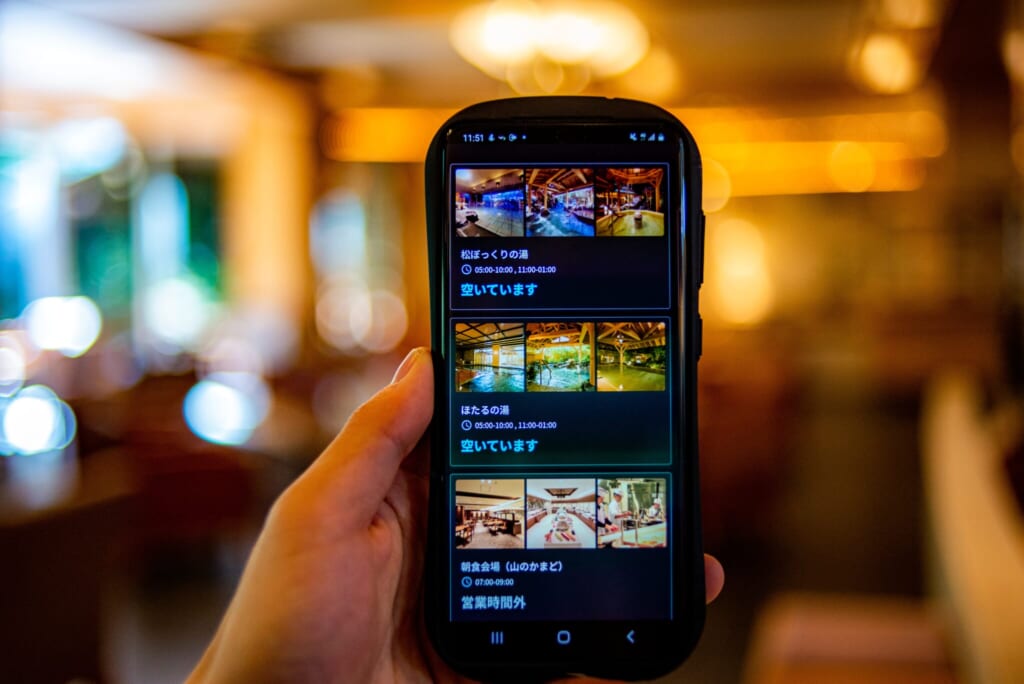 So far we haven't received any questions or complaints about how to use it.
It can be used right away after scanning the QR code, and since viewing the information is the main function, users don't have to click much and I think that's what makes it easy to use. It seems like there aren't many people struggling with QR codes since they became more widespread due to electronic payments and GO TO campaign coupons.
The second change is, the staff are now able to focus more on creating an even more comfortable environment for guests. For example, before we installed VACAN, in order to prevent the bath from getting crowded, we would assign a staff to stand outside to count how many people are inside around the time it usually gets crowded.
After we started using VACAN, guests can check the level of congestion in real-time, so there is no need for us to have someone count. With this, we can all focus on other ways to help guests enjoy their stay comfortably.
The main goal of inns and hotels should be for guests to enjoy their stay. With that in mind, we are very happy that by installing VACAN, we were able to reduce the limits and burden for guests, and are now able to focus more on hospitality.