The real-time crowd level information platform, VACAN, will be used during early voting to visualize the crowd level of polling places in Tatebayashi city, Gunma prefecture. Voters can view the information from the designated page without downloading an app. Tatebayashi city will be the first city to use VACAN during early voting.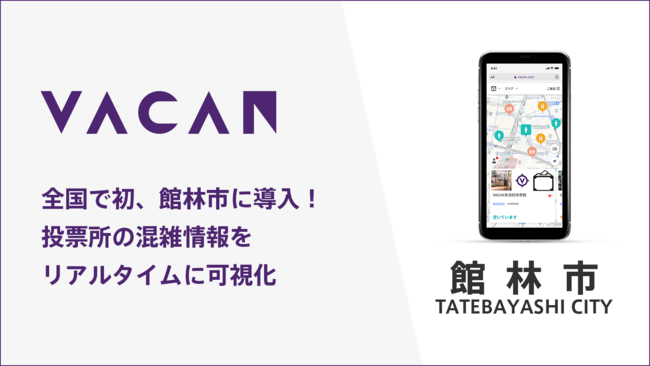 Distributing the Real-time Crowd Level of Polling Places


The real-time crowd information platform, VACAN, will be used during early voting in Tatebayashi city.

In VACAN, there is a function called VACAN Maps (https://vacan.com), where users can check the crowd level of places nearby from the designated page from their smartphone or laptop without downloading an app. During early voting, voters can access this page to check the location and real-time crowd level of the polling places. There are four crowd levels, "Vacant", "Fairly Crowded" "Crowded" and "Full" and it will be updated by the staff there.



Image) How it works
VACAN Maps for Tatebayashi City


There are 1,724 municipalities in Japan, and several different elections throughout the year. Due to the spread of COVID-19, the Ministry of Internal Affairs and Communications sent out a notice to each local government last year, asking them to take measures to prevent the spread of the virus. With this many polling places set up hand sanitizing stations, made sure everyone was wearing a mask, and ventilated the area several times a day.
Another notice was sent out in January of this year asking them to share the crowd-level information of polling places with voters. By using VACAN Maps, early voters in Tatebayashi city can easily check the crowd level of the polling places nearby. This way, voters can choose the best time and location to go vote to avoid waiting
About VACAN Maps


VACAN Maps is a platform where facilities can easily share the crowd level in real-time and users can view that information on the designated page (https://vacan.com) on their smartphone or PC without installing an app. There crowd levels can be changed from the admin page or using our IoT button.
In local governments in Japan, it is used to visualize the availability information of evacuation centers during natural disasters.
About Tatebayashi City


Population: 75,373 (as of January, 2021)
Website: https://www.city.tatebayashi.gunma.jp/
Address: 1-1 Shiromachi, Tatebayashi, Gunma 374-8501



About Vacan, Inc.


CEO: Takanobu Kawano
Established: June, 2016
Address: Sumitomo Fudosan Nagatacho Building, 2F, 2-17-3 Nagatacho, Chiyoda-ku, Tokyo, 100-0014
Website: https://corp.vacan.com/ (JP), https://tw.vacan.com/ (TW), https://en.vacan.com/ (EN)
Vacan, Inc. is one of the companies selected for J-Startup 2019, created by the Japanese Ministry of Economy, Trade, and Industry. Vacan utilizes AI and IoT to obtain and provide the vacancy information of various places. Vacan provides a service where the vacancy information for places such as food malls, cafes, restrooms, meeting rooms, and employee cafeterias, etc., can be automatically detected using sensors or cameras, and then shared on digital signages and smartphones.