Vacan, Inc. (HQ: Chiyoda-ku, Tokyo, CEO: Takanobu Kawano), the start-up that utilizes AI and IoT to visualize the vacancy information for various places, and Gero City, Gifu Prefecture (Mayor: Noboru Yamauchi) signed an agreement on March 4, 2021 to distribute the congestion information of evacuation centers during disasters. The congestion information of 53 evacuation centers can be viewed online using Vacan's real-time vacancy information platform, "VACAN". Gero city is the first city in Gifu Prefecture to use VACAN.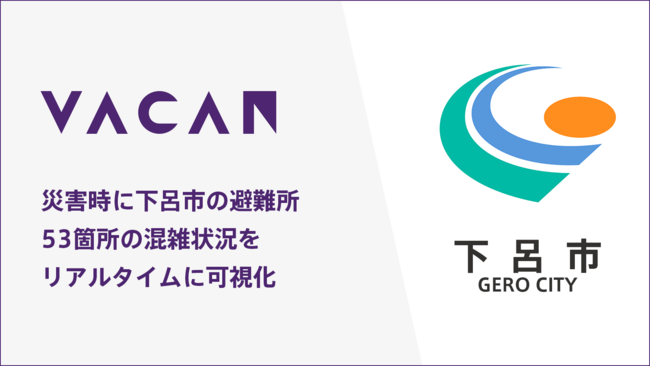 About the Agreement and Congestion Information Distribution
The aim of this agreement is for Vacan to provide the real-time congestion information of evacuation centers in Gero City online in case of a disaster that requires evacuation. Currently, there are 53 evacuation centers. The information will be provided through Vacan's real-time information distribution platform, VACAN Maps.
With VACAN Maps (https://vacan.com), the vacancy/congestion information of facilities nearby can be viewed. Users can check the location and level of congestion of evacuation centers by accessing the page from devices such as smartphones and PCs. The level of congestion is updated from the admin page by the staff at the evacuation center. There are four levels, "Vacant", "Fairly crowded", "Crowded", and "Full".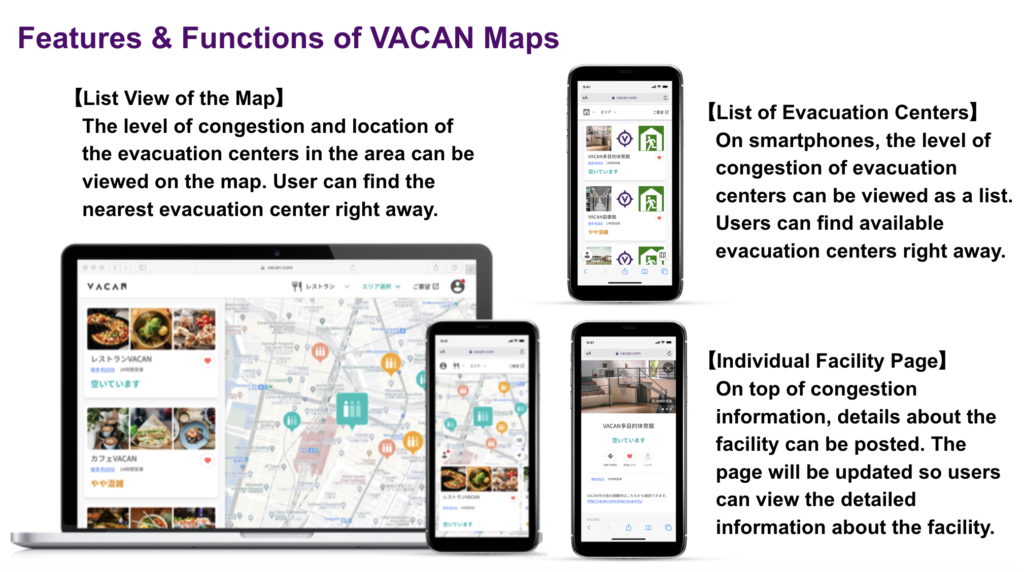 Sample Image

Prevent Evacuation Centers from Getting Crowded
Facilities are expected to take social distancing measures to prevent the spread of COVID-19, and this is no exception for evacuation centers. The staff need to make sure the evacuation centers are not crowded and there is enough space to separate those who are not feeling well. In order to do so, evacuation centers may need to lower the maximum capacity. It is necessary for residents to spread out and go to different evacuations so certain ones do not get packed.
There was flooding in Gero City due to the torrential rain in July of 2020, and many residents were forced to evacuate.
Through this approach, residents can easily check the location and level of congestion of evacuation centers nearby from their smartphones. By doing so, residents can safely evacuate without overcrowding evacuation centers during the pandemic.
About Gero City
Mayor: Noboru Yamauchi
Population: 31,314 (as of February 1, 2021)
Website: http://www.city.gero.lg.jp/
City Hall Address: 〒509-2295 960 Mori, Gero Shi, Gifu
About Vacan, Inc.
CEO: Takanobu Kawano
Establish: June, 2016
Website: https://corp.vacan.com/ (JP), https://tw.vacan.com/ (TW), https://en.vacan.com/ (EN)
Address: Sumitomo Fudosan Nagatacho Building, 2F, 2-17-3 Nagatacho, Chiyoda-ku, Tokyo, 100-0014
Vacan, Inc. is one of the companies selected for J-Startup 2019, created by the Japanese Ministry of Economy, Trade, and Industry. Vacan utilizes AI and IoT to obtain and provide the vacancy information of various places. Vacan provides a service where the vacancy information for places such as food malls, cafes, restrooms, meeting rooms, and employee cafeterias, etc., can be automatically detected using sensors or cameras, and then shared on digital signages and smartphones.